10 Ways to Enjoy Brighton this Summer
We've been enjoying something of a heatwave for the last few weeks (or is it even still classified as a heatwave- perhaps this is what summer looks like these days?) Either way, waking up to cloudless blue skies every day has reminded us just how lucky we are to live here by the sea in sunny Brighton. So with the summer holidays stretching out ahead of us, here's a few ways to enjoy all that's right here in our very own hometown this summer:
We're a bit spoilt for outdoor swimming in these parts. There's the sea, obviously. Is there anything better on a warm day than cooling off with a quick dip, followed by a bag of salty chips on the beach? But if you're not a fan of battling the day trippers for your spot on the shingle, a trip to the lovingly restored Saltdean Lido is a brilliant summer's day out, with a paddling pool and splash area for little ones too.
Brighton's dining scene just keeps getting better and better. Located in the old post office, The Ivy in the Lanes is just one of the city's culinary newcomers. And while it may not be an independent restaurant, the gorgeously eclectic decor is pure Brighton, paying homage to the city's hedonistic spirit. The perfect place to head straight from us here at Shine for a spot of weekend brunch with friends and show off your swishy new hair. And do be sure to check out the loos, they alone deserve their own Pinterest board.
As the undisputed LGTBQ capital of the UK, there's a reason why thousands of revellers descend upon our city for Pride. One weekend of pure show-stopping fabulousness, we really know how to throw a party! From the parade's glorious dancing rainbow of colour and craziness to Kemptown village's two day party takeover, it's all going on. And this year we've got none other than Britney taking to the stage on Saturday night! Tickets for that sold out way back, but don't fret because you can still get your hands on some to see Nile Rodgers and Chic headlining on the Sunday in Preston Park. Good Times indeed.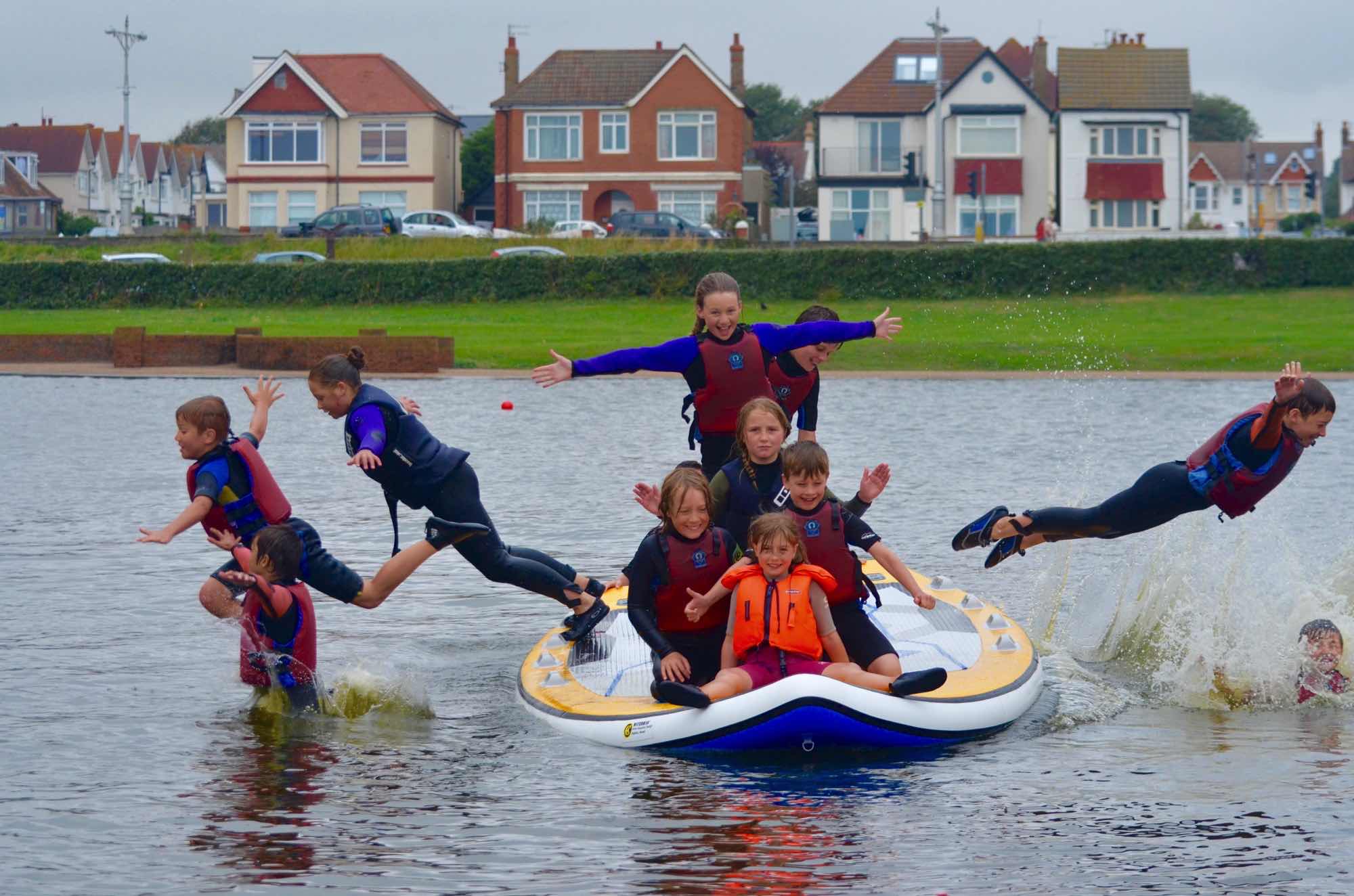 Try your hand at stand-up paddleboarding, wakeboarding and lots of other water activities down at Hove Lagoon. Lagoon Watersports run lots of sessions and activity weeks for kids too, and you can even give SUP Yoga a go!
After a day spent on (or possibly, in) the water at the Lagoon, head round the corner to Fish to pick up some locally caught fresh fish or shellfish for dinner tonight. They've got a really wide selection, including in-season mackerel, sardines and lobster, and the team there are on hand to give you tips for cooking and preparation. Serve with a glass of chilled local white or rosé and pat yourself on the back for giving the local economy a boost, too.
The oversized lollipop, the giant doughnut, the iSore… just some of the local nicknames (along with some too rude to be shared here) the British Airways i360 has collected since it opened two years ago. But whatever you think of it, the views from the top of this 'vertical pier' are pretty good, especially on a clear day. Once you're back on terra firma, Murmur is the perfect seafront spot to grab a bite to eat and indulge in a bit of people watching.
When the summer crowds get too much, jump on the open top 77 bus to Devil's Dyke for some rural downtime. Take a picnic and enjoy the stunning views, and after a ramble, rest your legs and recharge for the journey home with a refreshing drink in the beer garden at the Shepherd and Dog in Fulking.
Make like you're hanging out on Rio's Copacabana Beach and why not give beach volleyball a go? Yellowave Beach Sports run events, taster sessions and kids clubs throughout the summer- and if you don't quite master it the first time the venue is open all year, so plenty of time to work on your technique ready for next summer.
Now is not the time to embark on your next Netflix binge, and especially not when you have a renowned open air theatre on your doorstep. Brighton Open Air Theatre's diverse line up this summer means there is something for all tastes and ages. Highlights include a family-friendly production of Swallows and Amazons, a space age take on The Tempest and Sunday jazz afternoons. Just add sunshine.
Finally, no summer spent here is complete without hotfooting it up the beach in Hove post-paddle to join the ever present queue outside the iconic Marrocco's for one of their famous ice creams. A real local institution since 1969, we promise it'll be worth the wait.
We are delighted that two of our favourite local independent shops are now stocking our Shine Shampoo bars. Developed by Jonathan, these handy bars are great for the whole family to use while travelling this summer, with a wonderful citrus zing and rich lather- and no plastic bottle! Shine Shampoo Bars are now available to buy at fabulous Bond Street boutique Lavender Room and the best supermarket in town, HISBE.
We're proud to use Aveda's products here at the salon- not only because they deliver amazing results, but because of what the brand stands for. All their products are cruelty-free, and developed using sustainable or renewable plant-based ingredients- so no nasty mineral oils or parabens. Not only that, Aveda are the first beauty company to be using 100% post consumer recycled PET in their packaging, working to reduce their environmental footprint. Good for your hair, good for the planet.
That's all for this month. Enjoy the sunshine and hope to see you in the salon soon!